On May 20th the Zionsville Cultural District distributed free dahlia tubers to the public at the Zionsville Farmers Market. The purchase of these dahlia tubers was made possible by a 2023 Boone County Master Gardeners Education grant. The ZCD team explained how to grow dahlias in this area and provided instructional handouts to accompany each dahlia tuber.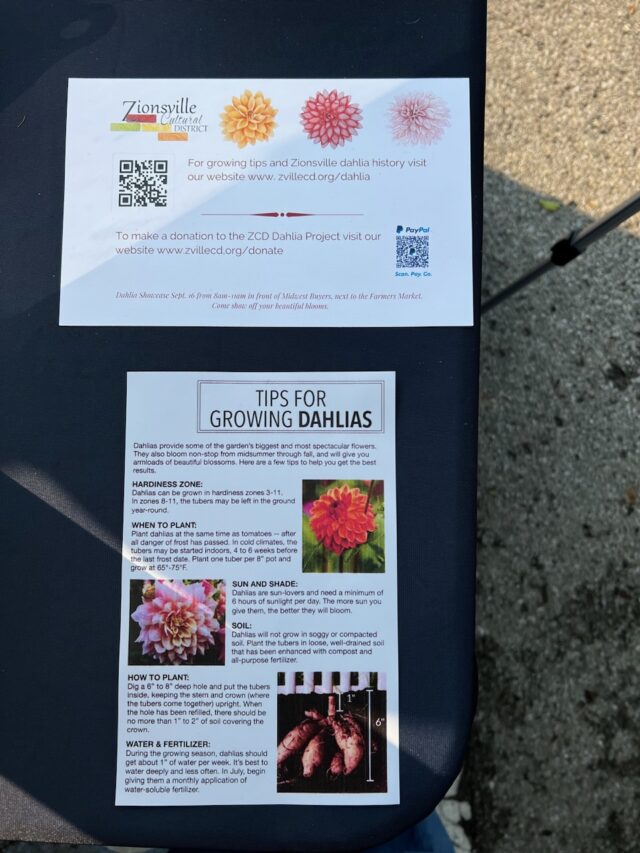 Zionsville has a unique historical relationship with dahlias. Nearly a century ago, Zionsville had the nickname "Dahlia City" because there were two village nurseries selling dahlia tubers and other flowers throughout the country as a mail order business.  One of those nurserymen, Fred Gresh of Parkway Gardens, actually won the coveted Gold Medal Award at the 1933 Chicago World's Fair from the American Dahlia Society for his own hybridized dahlia called "Zion's Pride".   Unfortunately, this large, lemon-yellow dahlia is no longer in existence.  The town of Zionsville pays tribute to its historical name "Dahlia City" with a mural on the traffic signal box at the SE corner of 106th St and Zionsville Road.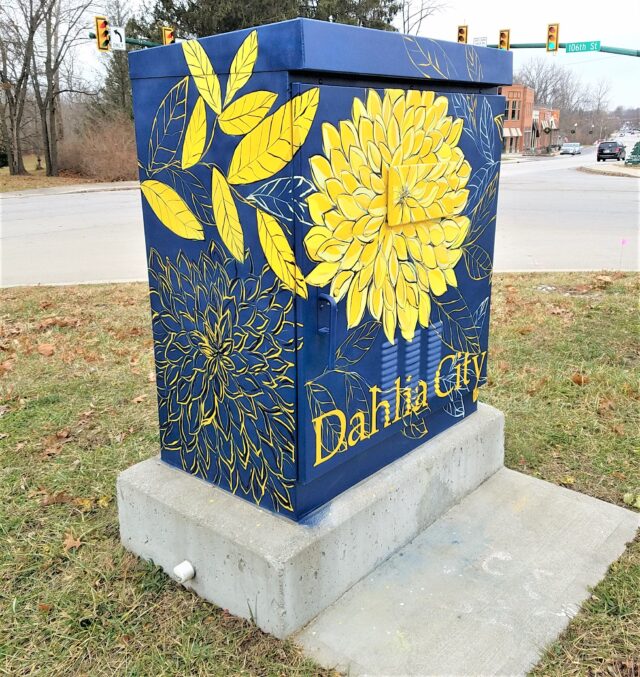 https://www.indyartsguide.org/public-art/dahlia-city/
Dahlias are some of the garden's biggest and most spectacular flowers in a garden.  They can be grown in zones 3-11 but in zones 3-7, the tubers must be dug and stored to survive the winter.  Boone County is located in zone 5 so gardeners must dig and store their tubers if they are to grow again next year. Dahlia tubers must be planted in a sunny, well drained area of the garden when all danger of frost has passed.  This is usually around Mother's Day or May 10-15th.  They need a minimum of 6 hours of sunlight per day but really thrive with more sunlight.   Dahlias need a hole 6-8" deep and before planting, incorporate some compost and all-purpose fertilizer. When planting, spread the tubers out and make sure the crown is upright. Backfill with soil but make sure the crown of the plant is no more that 1-2" below the soil surface.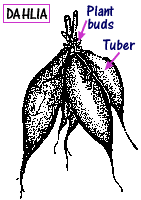 https://web.extension.illinois.edu/bulbs/bulbbasics.cfm
Dahlias should have about 1" of water per week and starting in July, also include a monthly application of water-soluble fertilizer. When the plant is about 10" tall, pinch off the plant at the center stalk to encourage more side shoots and more blooms. . Make sure it has at least 4 sets of leaves.   Staking the dahlia may become necessary if the plant grows more than 36" tall or the plant starts bending with the weight of the blooms.  Deadheading the spent flower stalks will encourage the plant to keep on producing more blooms.
Dahlias are to be dug when the plant is darkened by frost. Cut the top back to 4-5 inches and gently lift the tubers out of the ground with a fork or spade. Remove the soil around the tubers by hosing the tubers gently with water and allowing the tubers to completely air dry for several hours. At this time, you can divide the tubers making sure that each tuber has an eye. Store the tubers in a dry, cool, frost-proof place, wrapping the tubers in clumps of newspaper, or boxes with sand, sawdust, peat moss or vermiculite. It is important that the tubers don't shrivel or decay during this dormant period.
Periodically check the tubers in storage and when you start seeing new shoots developing, you can start potting them up or if it is past our frost-free date, you can plant them directly in your garden again.
References
Zelonis, Mark, "Zionsville The Cultural City", Zionsville Cultural District handout given at the Dahlia Giveaway Zionsville Farmers Market, May 20, 2023
"Tips for Growing Dahlias" longfield-gardens.com, Zionsville Cultural District handout given at the Dahlia Giveaway Zionsville Farmers Market, May 20, 2023
Dana, Michael N. and Lerner, B. Rosie, "Winter Storage of Geranium, Canna, Gladiolus, Caladium, and Begonia" Purdue University Cooperative Extension Publication HO-85-W, July 2005.