Next Gardenfest – April 6, 2024
Come and enjoy a day with the Boone County Master Gardeners!
Each year the Purdue Master Gardeners – Boone County hold a Gardenfest in early April. The event is at the Boone County Fairgrounds, and runs from 9 am to 3 pm. This is the perfect opportunity to get excited about your gardening projects for the coming year.
This is a free event and features vendor booths, door prizes, a garden café, soil pH testing, kids' activities and Q&A opportunities. Three garden experts speak on topics of interest.
Here's a recap of Gardenfest 2023 written by Tom Ewing that appeared in the Lebanon Reporter and Current Zionsville.
Boone County Gardenfest: Unleashing Spring
By Tom Ewing
Boone County Gardenfest rocked Community Hall at the 4-H Fairgrounds in Lebanon on Saturday, April 1 (no fooling) transforming the hangar-style building into a dense mix of greens and colorful spring flowers.
Attendance exceeded 550, about 100 more than last year.
Gardenfest is all about plants and gardens, and just about everything else linked to the world of plants and gardens, from topsoil to mulch to all of the delightful accoutrements and statuary that turn gardens into magical places. More than 20 vendors participated. A popular activity for kids was the "Pansy Patch," a chance for kids to paint flowerpots and transplant pansies. Flowers were donated by Jones Greenhouse, of Lebanon. Greencycle of Indiana provided the potting soil.
Gardening education is a key objective for the Boone County Master Gardeners (BCMG), the volunteer group responsible for Gardenfest. Master Gardeners complete a rigorous educational program set by Purdue University's Cooperative Extension Service (there are about 40 such county-level programs across Indiana). To retain their standing, Master Gardeners meet annual education and volunteer requirements.
Gardenfest offered professional expertise and insights, from pH soil sampling to three lecture-information sessions. Speakers this year addressed dealing with nuisance animals, hydrangea gardening and "all about bees." The sessions were "sold out." Volunteers literally needed every folding chair available in the lecture room.
Valerie Jasper is BCMG Vice President. Gardenfest is important for a number of reasons she said. "It's a good way to show off what we do," Jasper explained. "It's important for revenue," and, she added, "it provides a venue for us to focus on efforts that extend beyond singular, individual gardens." These efforts link to community-wide issues. Gardenfest revenue helps to fund garden projects throughout Boone County.
Gardenfest highlighted five active topic areas:
Rainscaping – developing gardens that maximize the use and conservation of rainwater;
Promoting native plants that complement rainscaping;
Eradicating invasive species, e.g., honeysuckle and garlic mustard;
Working with Purdue University's sustainable food programs; and,
General gardening education.
Gardenfest is about more than information. It provided a way for people to follow up, to directly work on related issues. The information table for invasive species, for example, included links to register for two upcoming volunteer work sessions to root out garlic mustard from Zionsville parks. Another example: working with CISMAs – Cooperative Invasive Species Management Areas – Indiana's "invasives initiative" to leverage and complement efforts among groups to maximize invasives destruction.
Lesley Cain, of Zionsville, a Master Gardener since 2018, helped staff the invasives information table. To avoid weeds and invasives her focus is on native plants, a way to get a beautiful garden and minimize the hard work of constant weeding. In preparation for Gardenfest, volunteers painstakingly collected and packaged – and sold – hundreds of native seed envelopes.
In addition to packaged seeds, tree seedlings were available to the first 300 attendees. Gardenfest followup: Boone County will get more beautiful.
This was this year's flyer promoting our event. Next year's Gardenfest 2024 will be on April 6, 2024.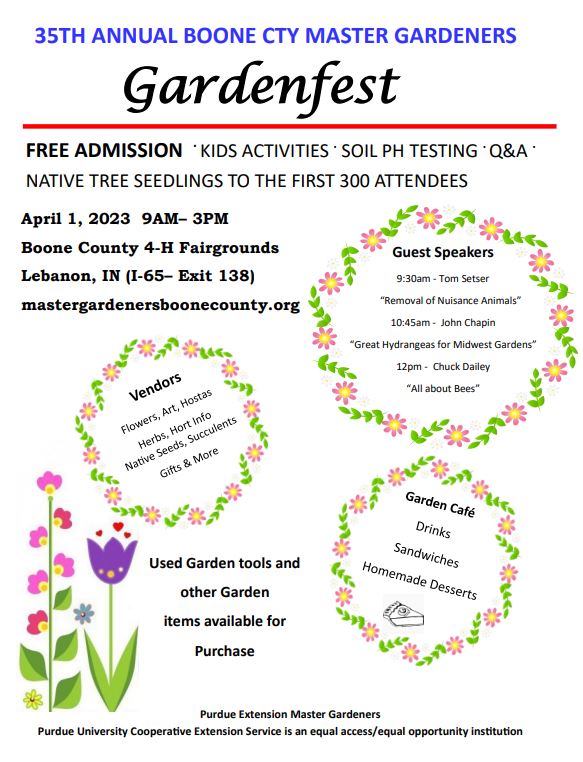 Our Featured Speakers for Gardenfest 2023
Our featured speakers for our 2023 Gardenfest will be Tom Setster presenting "Removal of Nuisance Animals", John Chapin speaking about "Great Hydrangeas for Midwest Gardens" and Chuck Dailey whose talk will be "All about Bees".
Chuck Dailey "All About Bees" – noon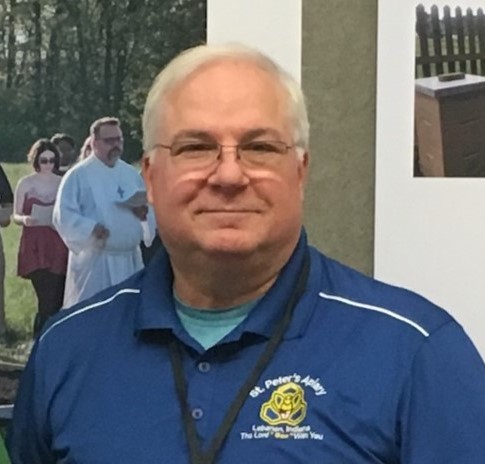 Chuck Dailey is a retired engineer from Rolls-Royce and the Senior Beekeeper at St. Peter's Apiary in Lebanon, Indiana. The apiary is located on the grounds of St. Peter's Episcopal Church and was created in 2014 to provide pollinator support for a small farm and gardens also located on the property. Produce from these farm gardens is provided to the local food pantries and at no cost. He and his wife Sandy use the teaching apiary and farm gardens as part of a community outreach program where both youth and adults learn about the importance of honey bees as pollinators as well as how to Plant, Prepare and Preserve food.
Chuck received his Master Beekeeper certification from the University of Montana in the fall of 2020. He currently serves as the Chairman of the Education Committee and Vice President for the Beekeepers of Indiana. He travels across the state giving presentations on beekeeping, regenerative agriculture and St. Peter's Care of Creation ministries.
John Chapin – "Great Hydrangeas for Midwest Gardens" – 10:45am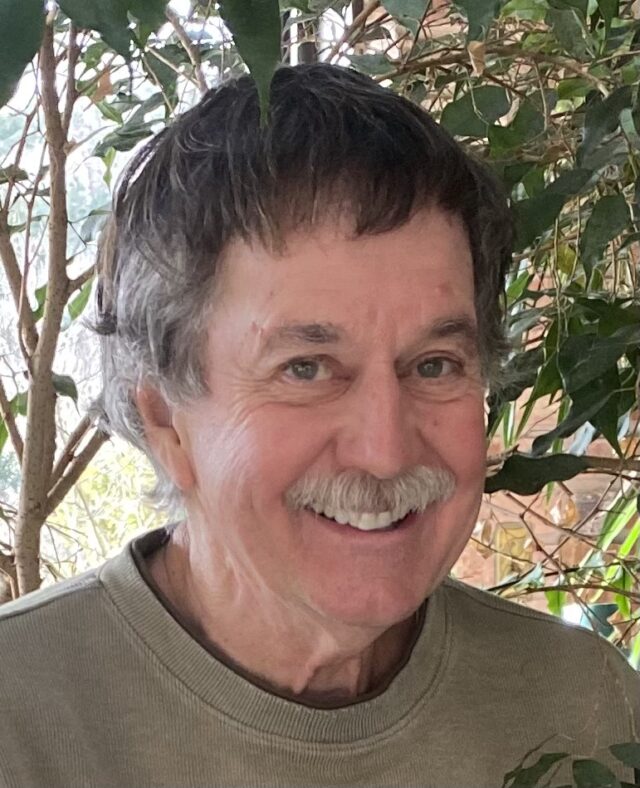 John Chapin lives in Danville, IN. He was an elementary teacher for 36 years and has also had a landscaping company for 37 years. John who is now mostly retired, does consultations and landscape designs. In addition, he writes a bi-weekly gardening column for the ICON (Hendricks County paper) and enjoys speaking and presenting to garden clubs and Master Gardener classes.
Five years ago, John started his "retirement" business, Tree Frog Gardens, which specializes in growing and selling unusual or hard-to-find plants, perennials, shrubs, ornamental trees and conifers. Tree Frog Gardens hosts three seasonal sales each year and is open to the public by appointment only. You can find more information about Tree Frog Gardens on their website www.treefroggardens.com and their Facebook page facebook.com/treefroggardens.
John will be speaking at 10:45 am on "Great Hydrangeas for Midwest Gardens".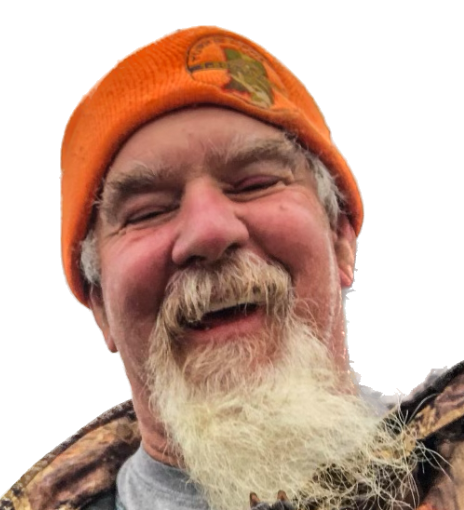 Tom Setser – "Removal of Nuisance Animals" – 9:30 am
Tom Setser is a wildlife control operator in Boone, Marion, Hendricks, Morgan and Putnam counties. He works under an Indiana DNR permit. His services include dead animal removal, trapping and removing wildlife and working as a damage consultant. He also teaches classes in trapping and works with 4-H members in Hendricks County. He is affiliated with the National Trap Association, Furtakers of America, Indiana State Trappers Association and the NRA. His talk today will be "Removal of Nuisance Animals" at 9:30AM.
Enjoy these photos from Gardenfest 2023.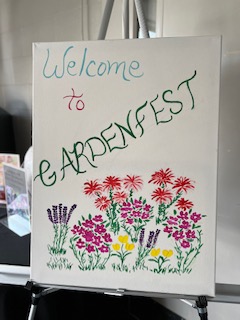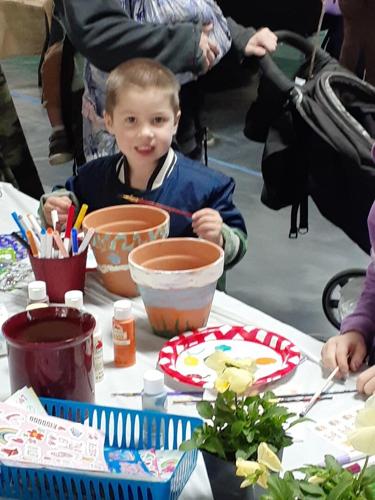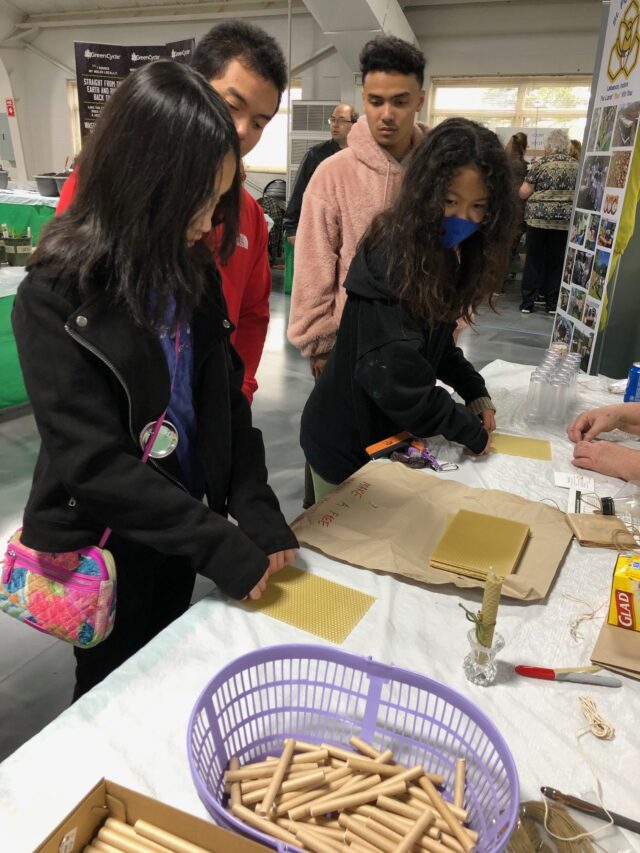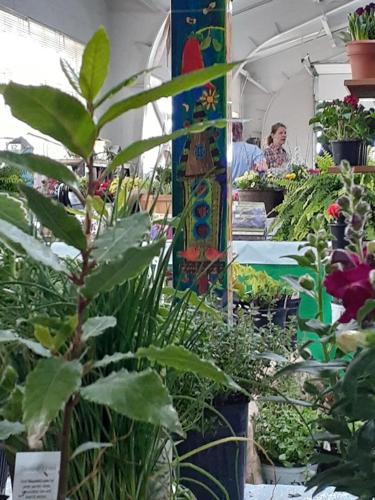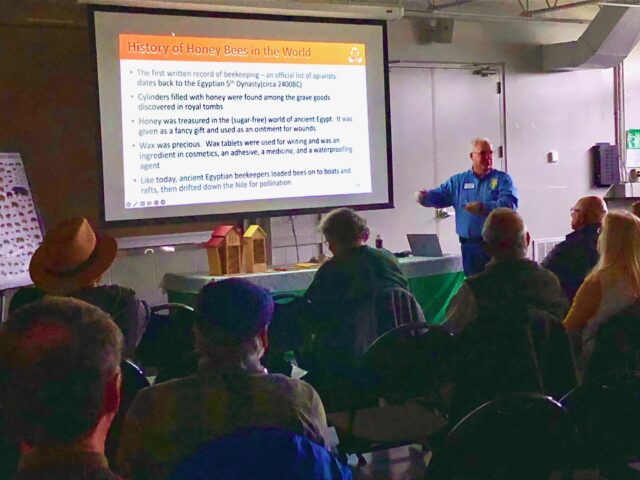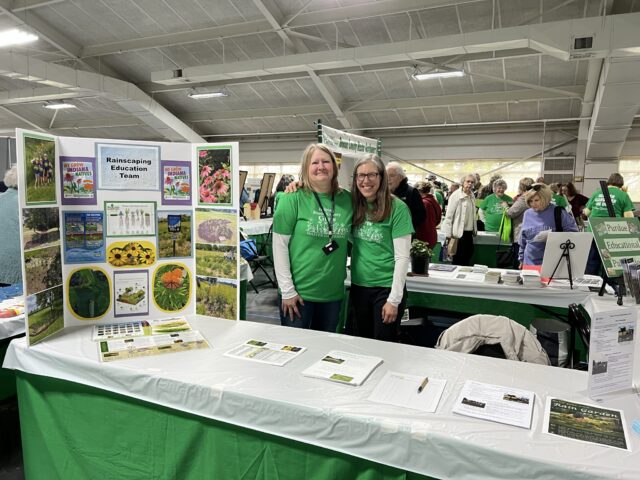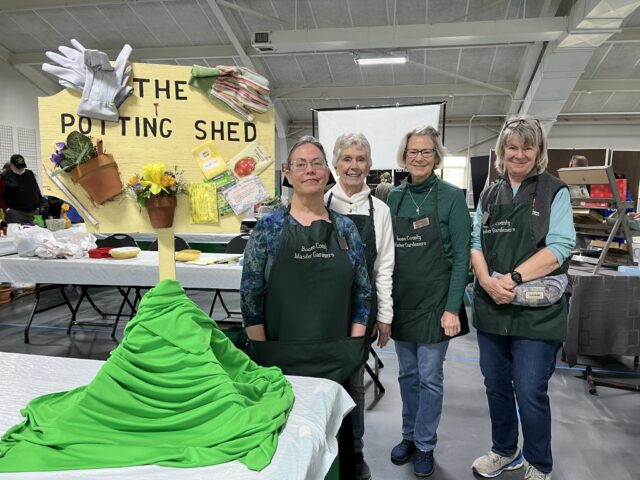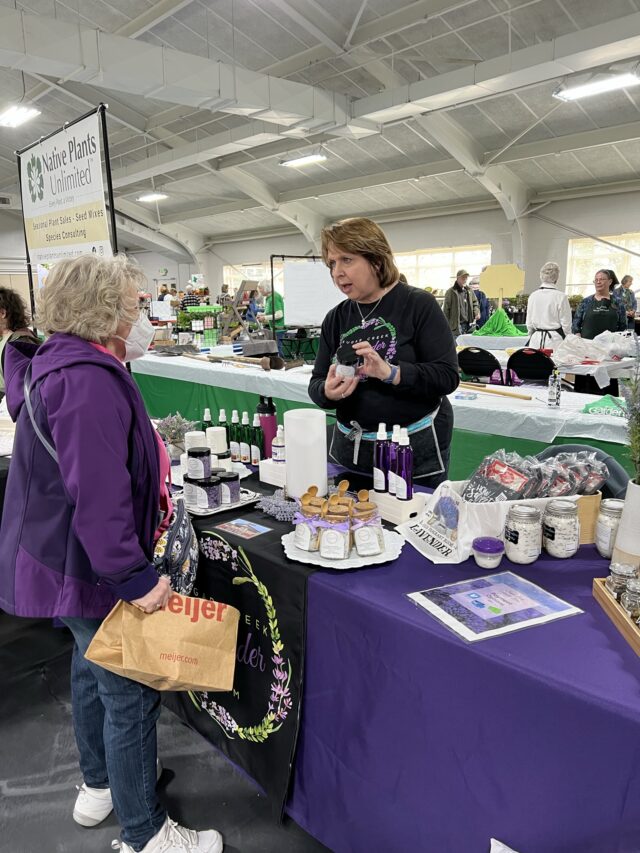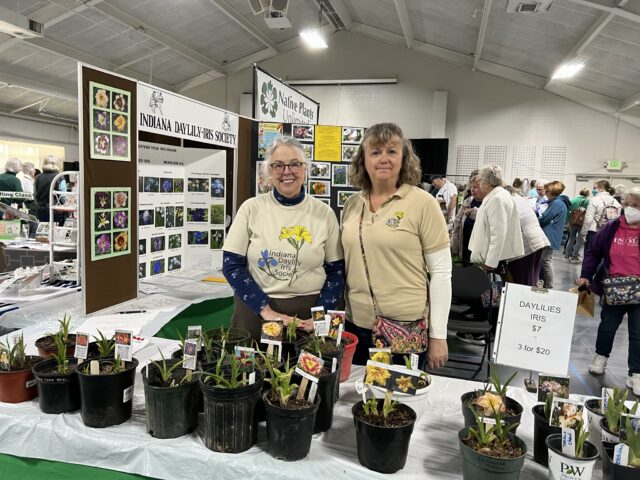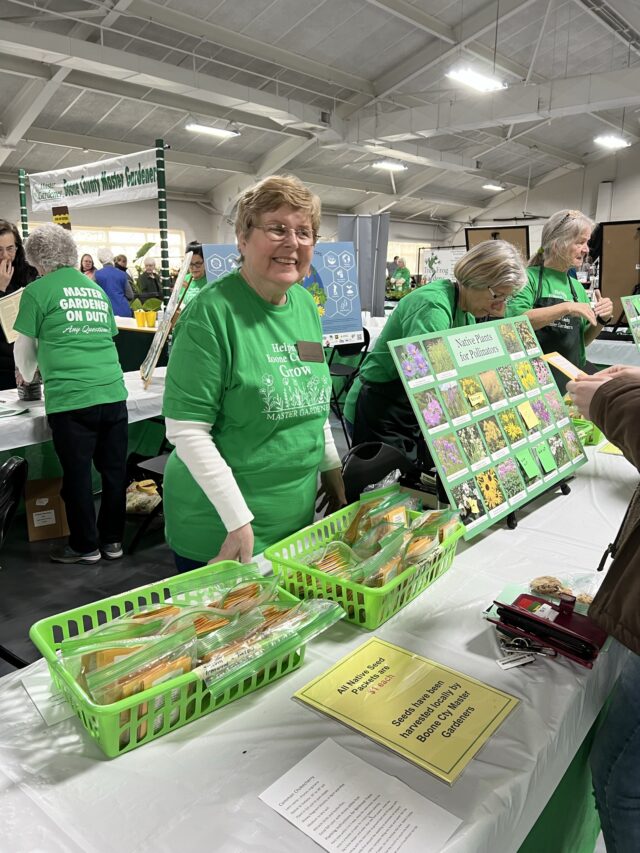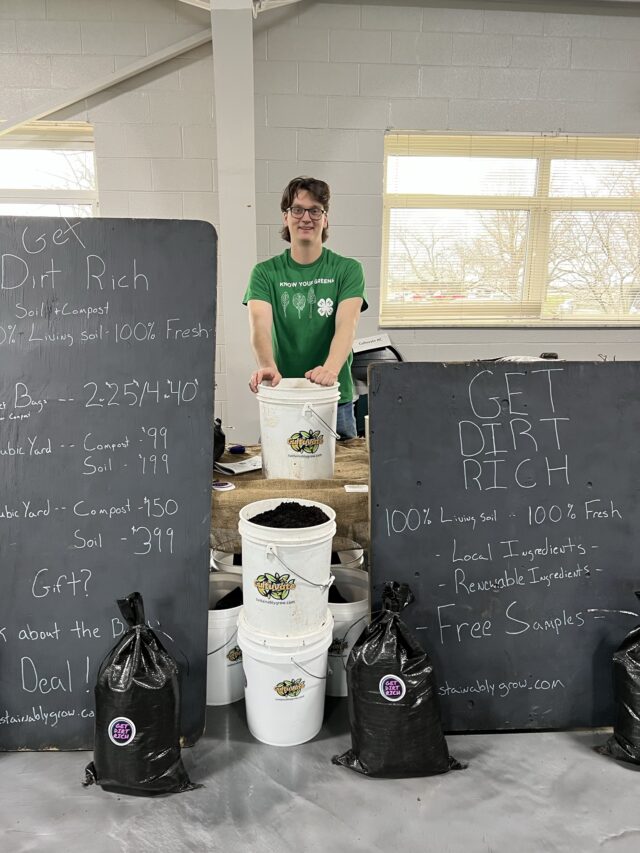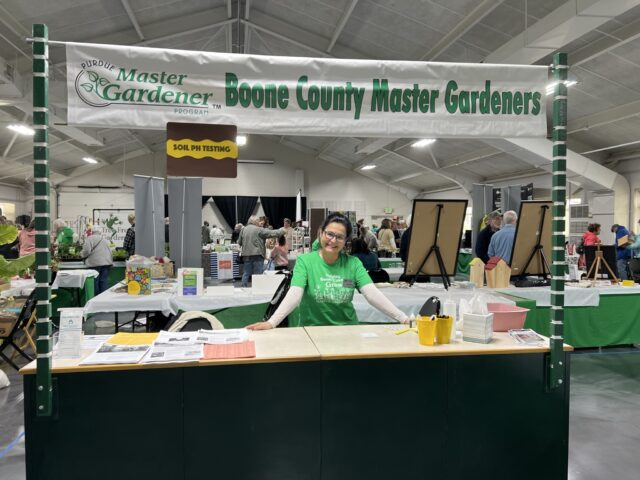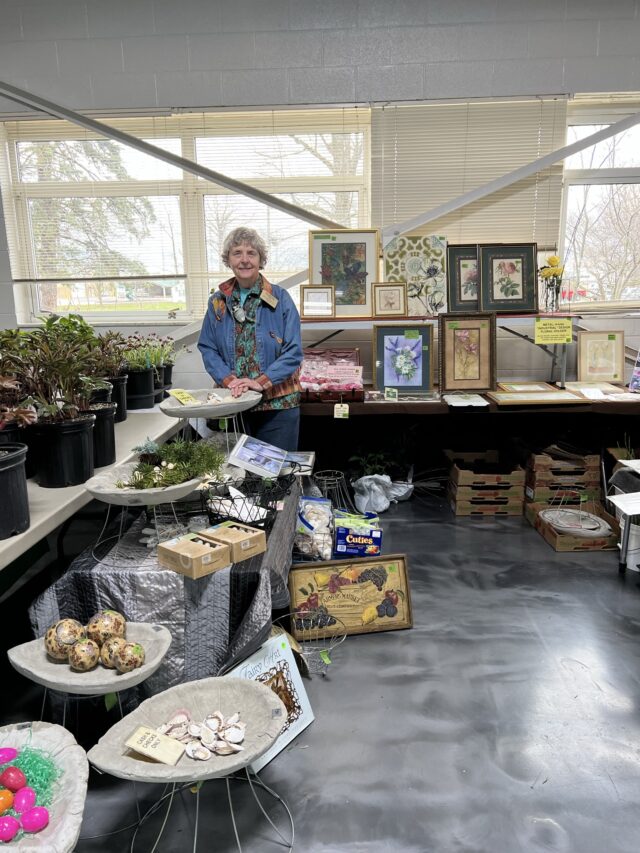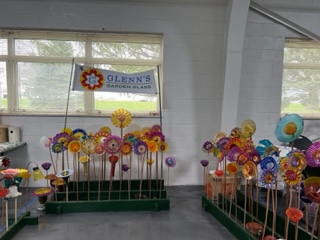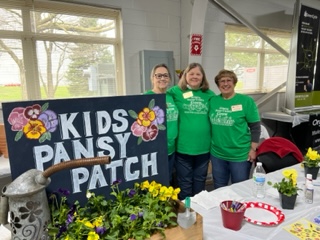 We look forward to seeing you next year at Gardenfest 2024 on April 6, 2024!